Student accommodation
in Nottingham
At Xenia we want to make your student experience as easy and enjoyable as possible! That's why we offer a huge range of student accommodation in Nottingham for you to choose from. These include Avalon Court, Bard House, Maid Marian House and Minerva House, which are situated close to Nottingham city centre. If you're looking for student accommodation in Nottingham, why not browse our city-centre student halls of residence to find your studio apartment!
Our student accommodation in Nottingham starts from as little as £150, for a single student studio apartment, with bills included. If you choose to stay with Xenia, you can enjoy amenities such as free WiFi, an on-site gym, an en-suite bathroom, areas to socialise and a cinema room! All of our studio rooms come equipped with a fitted kitchen, smart TV, bed and en suite, so you never have to share or hide your food!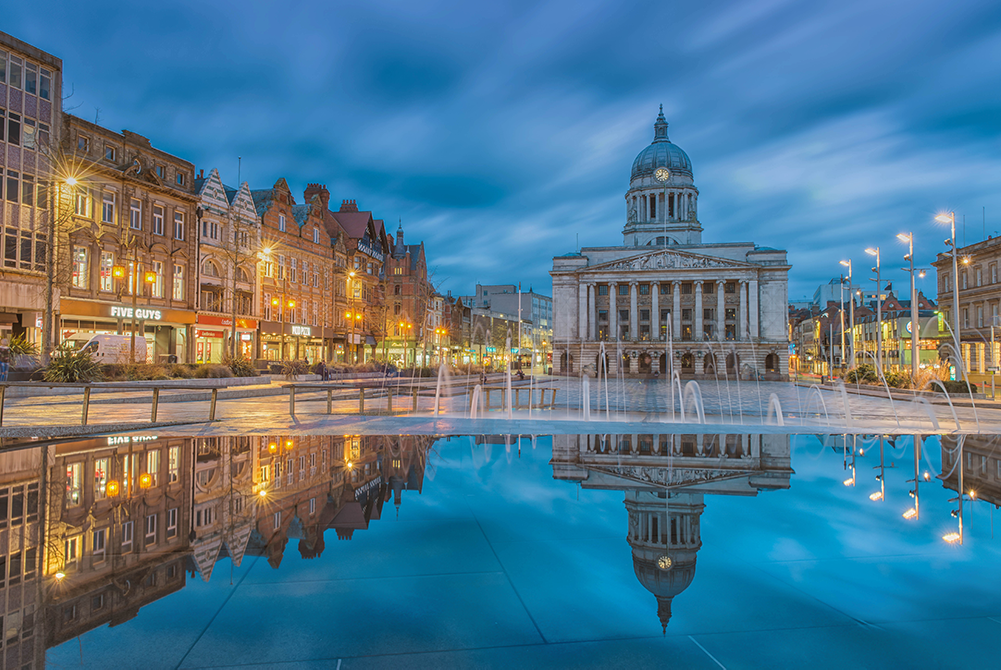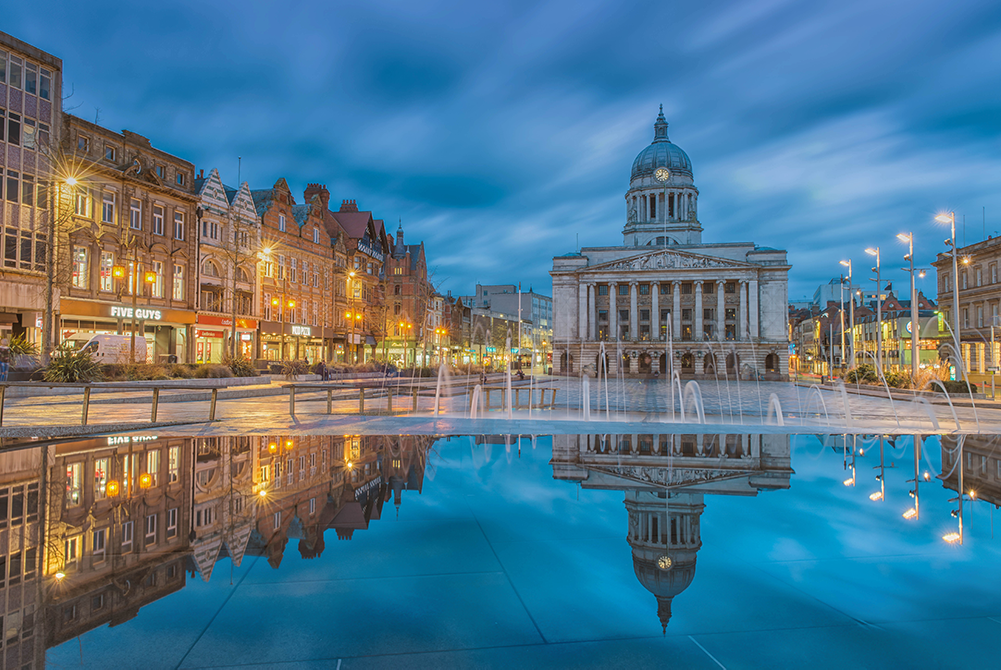 Why choose Nottingham?
Nottingham is a vibrant city rich in history and is home to two universities: Nottingham University and Nottingham Trent. Our student accommodation in Nottingham city centre gives great access to both campuses – Bard House, in particular, is optimum Nottingham Trent accommodation – it's less than five minutes away!
The nightlife is great no matter how you like to spend it, with everything from traditional pubs to high-end cocktail bars and student-only clubs. Nottingham is home to a wide range of cultural attractions including comedy clubs, music venues, theatres, and galleries. It's also famed as a shopping location with independent stores scattered across the city, as well as shopping centres full of high-street favourites – we'd recommend Intu Victoria! Head a bit further afield and you can explore the Peak District National Park and Sherwood Forest – you might even meet Robin Hood along the way!
Save £20PW on all remaining rooms
Bard House
from £155 per week
Student Accommodation in Nottingham
Ensuite

Great Location

Bills Included

Free WiFi

Social Area

Laundry Room

Courtyard

Refurbished
Save £30PW on all remaining rooms
Minerva House
from £125 per week
Student Accommodation in Nottingham
Ensuite

City Centre

Bills Included

Social Area

Free WiFi

Laundry Room
Save £20pw on all remaining rooms
Maid Marian House
from £155 per week
Student Accommodation in the heart of the city centre
Ensuite

City Centre

Free WiFi

Bills Included

Gym

Social Area

Laundry Room

CCTV
Book Your New Home For 23/24!
Avalon Court
from £160 per week
Student Accommodation in Nottingham
Ensuite

Great Location

Bills Included

Free WiFi

Social Area

Laundry Room
Accommodation

University

Transport

Interest
Student Living in Nottingham
Finding student accommodation in Nottingham

At Xenia, we want you to find the right accommodation to suit you. We have four student buildings to choose from, which are close to the city centre. If you're studying at Nottingham Trent, then Avalon Court and Bard House could be a great option for you, as both are only a short walk away. Maid Marian House and Minerva House are both situated in Nottingham city centre, so you'll never be far from the action. 

We want to make finding student accommodation in Nottingham as stress-free as possible for you! So, if you have any questions about the student studio apartments we have on offer in Nottingham, feel free to get in touch and our friendly accommodation team will help you out!

What student studio options can I choose from in Nottingham

With so many options to choose from, it can be tricky to pick the perfect student accommodation in Nottingham. We recommend taking your time to have a look at all of the rooms we have to offer. Check out the rooms at Avalon Court, Bard House, Maid Marian House and Minerva House. With prices starting at £125, we offer classic studio apartments, equipped with an en-suite and private kitchen facilities, to deluxe studio apartments, with larger living spaces and double beds.  

How easy is it to travel Nottingham?

Nottingham is a culturally diverse and vibrant city located in the East Midlands. It is just 2 hours away from London via train.

Nottingham Express Transit provides a quick and easy way to get across the city. It travels as far as Hucknall and Clifton and had five stops in the city center.

Nottingham is also great for exploring by foot or bike, whether that be getting to University or visiting Nottingham's rural spots.

Which universities and colleges are based in Nottingham?

Nottingham has two main Universities: University of Nottingham and Nottingham Trent University. Another popular place of study is New College Nottingham.

Each university has a Student Union, which offers a range of activities:

The University of Nottingham Student Union: A Cappella, Cake Society, Dance, Badminton, Boat Club, and Caving.

For all activities: https://www.su.nottingham.ac.uk/

Nottingham Trent University Student Union: Comics, Cartoons and Creatives, Debating, Drama, Drone Society, Burlesque, Canoeing, Cricket, and Cheerleading.

For all activities: https://www.trentstudents.org/

What is the student nightlife like in Nottingham?

What is student nightlife like in Nottingham?

Nottingham is diverse when it comes to its nightlife; traditional pubs, secret bars, nightclubs, and live music venues can all be found in abundance. With Nottingham being a student-influenced city, there is a clear focus from venues to concentration on the student population – some of our favourite places to enjoy are:

Coco Tang

With an entrance based on a Hong Kong alley, the underground Coco Tang bar has been serving cocktails to students since 2008 and has a club-style vibe the later the night goes on.

The venue has a Vietnamese-styled roof garden which is great for a short break away from the house, funk & old school music in the basement.

Students can grab a deal in their happy hour between 7pm-9pm every Tuesday – Thursday!

Pryzm

The super club should be familiar to students across the UK as a must-visit for a good night! The Nottingham venue spans across six rooms, which includes the huge main room, intimate urban space, and retro room with a vinyl dance floor.

Rescue Rooms

Rescue Rooms has something on every night of the week, from club nights, to live music events, through to karaoke nights.

A student's favorite night is Pressure – which takes place every Tuesday. The venue offers students free entry and 2-4-1 drinks all night long. When inside, you will have a choice of alternative songs in the downstairs bar or hip hop upstairs.

There is also a karaoke night every Wednesday for those who love a singalong, don't worry, nobody is going to remember what you sounded like in the morning!

Rock City

If you love to dance the night away to alternative/indie hits, Rock City is the place for you! They host club nights from Wednesday – Saturday every week, with great drink deals on offer each night.

Crisis Wednesday is the official night for Nottingham University students– the venue claim that 2,000 students pack into the three rooms each week to enjoy chart, cheese, R'n'B, indie and student anthems.

Tuned Thursday's claims to be the biggest and best party in town, with 2,000+ people partying across three rooms and 2-4-1 drinks all night.

Where are the best places to shop in Nottingham?

Nottingham is diverse when it comes to shopping; from its popular storefronts to its secret side streets, where you will find the most unique places to shop.

The main place for leisurely shopping in Nottingham is the intu Victoria Centre, where you'll find all the main high street names such as JD Sports, Pandora, Boots and more – it's open from 9am-6pm daily, and 11am-5pm on Sunday's.

Inside the shopping centre is Victoria Centre Market – Nottingham's largest indoor market. There are stalls selling a variety of products, from fresh food, meat, and fish, through to books, jewellery, and textiles.

If you want to stay away from the high street retailers and shop at one of Nottingham's many independent shops – the Nottingham Independent Shopping Trail app was launched in 2017 to help people find the stores: https://goo.gl/WCDAqT

If you are living in the city centre, the best places to grab your groceries will be the Tesco Metro in the intu Victoria Centre. If you are lucky enough to have access to a car, there are ALDI and Sainsbury superstores located just outside of the city centre too.

What are the job opportunities for students in Nottingham?

Unitemps at The University of Nottingham advertise a range of part time and temporary assignments, across a variety of areas such as marketing, hospitality, events and translation work.

Carrying out an assignment as a student, whilst studying at the University allows you to gain accreditation for your part-time job through and Award.

For more information: https://www.unitemps.com/Nottingham-homepage

You can also find part time jobs at Intu Shopping centres; available jobs are posted on their website.

What else is there to do in Nottingham?

Nottingham is the home of Robin Hood; a heroic outlaw from an English folktale. For a day out there is a 'Robin Hood Tour' where you can view Robin Hoods County.

If you're looking for an adventurous day out why not try Adrenalin Jungle? They offer a variety of outdoor activities such as paintball, quad biking, 4×4 off road, archery, assault courses, blindfold driving and many more.

Nottingham is also renowned for its goose fair, which is one of the world's oldest fairs. It dates back to more than 700 years ago and visitors can enjoy more than 500 attractions, including Roller Coasters, Water Rides, Giant Wheels, Bombers, Dodgems, Twists and Waltzers (no geese though!).

A fun fact about Nottingham, it's known for HP sauce (also known as brown sauce). HP sauce was invented by Frederick Gibson Garton, which he named after the Houses of Parliament when he heard they had begun serving it there.

Booking Nottingham Student Studio Apartments with Xenia

Why book a Nottingham student studio apartment with Xenia?

We understand that there's a lot of choice when it comes to booking student studio apartments in Nottingham, so we are here to tell you what makes Xenia special.

Our modernly furnished rooms are equipped with a kitchen, en-suite, smart TV and comfy bed. We have excellent facilities at all four of our Nottingham student accommodation, including an on-site gym, washing rooms and also areas where you can socialise and meet your neighbours.

Our friendly staff will be on hand to help you with any queries or problems you have. Not only that, but our Nottingham student accommodation is close to the city centre, making this an ideal place to live.