Student accommodation
in Newcastle
We offer student accommodation in Newcastle for undergraduate and postgraduate students. Our accommodation building Burgess House is ideally placed just a 15 minute Metro ride from Newcastle and Northumbria University.
There are more than 50,000 students altogether so you certainly won't ever be too far from a friendly face. Newcastle is notorious for its nightlife, and is home to loads of pubs, bars, and clubs – As a result, there's a student night pretty much every night of the week!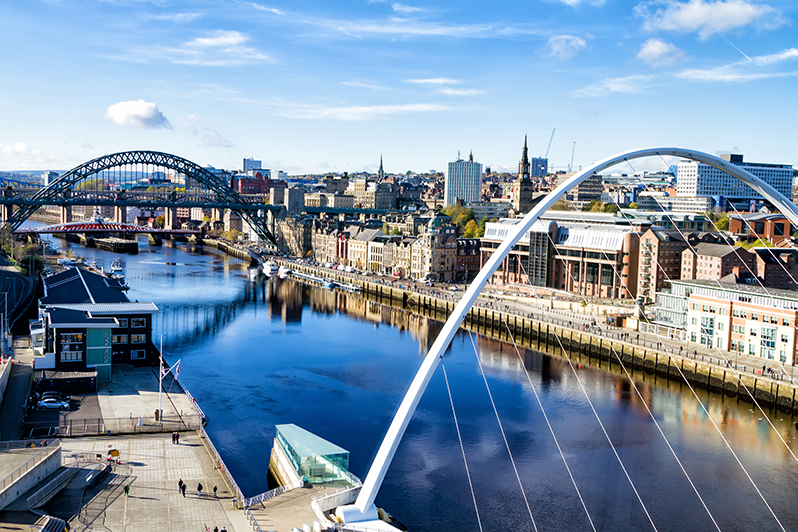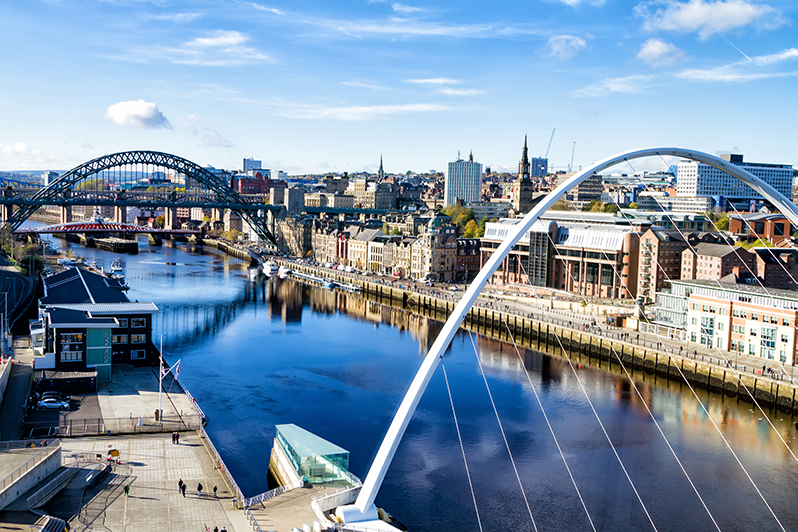 Why choose Newcastle?
It's also a great place for shopping with some of your favourite high-street brands across the city and some of the biggest shopping centres in the UK. The Metro gives you easy access to everything the city has to offer as well as the local coastline. Tynemouth Beach is perfect for taking a break from studying – if the sun comes out.
To sum up, Business Insider ranked it as one of the top ten cheapest student cities in the UK!
Sold Out!
Burgess House
from £155 per week
Great location with excellent social spaces!
Ensuite

Great Location

Bills Included

Free WiFi

Social Area

Gym

Laundry Room

Car Parking

2 more
Accommodation

University

Transport

Interest
Student Living in Newcastle
How easy is it get around Newcastle?

Surrounding Areas

Known for being one of the best 'student cities' in the UK, Newcastle is a vibrant and exciting place to live and study. Newcastle is located 3 hours away from London and just 1hour 30minutes away from Edinburgh via train.

Newcastle has great transport links, including The Tyne and Wear Metro which allows you to get to all the major destinations around Newcastle; this service also calls at Newcastle Central Station to all the national rail links.

Costs

The cost of a Metro ticket starts from £3.30, they also offer student tickets.

The cost of a student ticket is £31.80 (Inner Newcastle Four weeks) for one zone. You can also get an all-zone ticket for £61.90 (Four weeks).

Bus

If you prefer to travel by bus, QuayLink buses offer a regular easy-to-use service. The cost of a weekly ticket is around £11.50.

With Newcastle being a compact city it's easy to explore on foot or by bike; with traffic free trails, forest routes and long-distance rides.

Which universities and colleges are based in Newcastle?

Student accommodation in Newcastle- Universities:

Newcastle has two main Universities: Newcastle University and Northumbria University. Another popular place of study is Newcastle College.

Each university has a student union, which offers a range of activities, which most are run by students:

Newcastle University Students' Union: Animal Science, LGBT Society, A Cappella, Canoeing, Pole, Judo and Gymnastics.

For all activities: https://www.nusu.co.uk/

Northumbria Students Union:

Arial Arts, Cocktails, Criminology, Yoga, Snow Sports and Clay Shooting.

For all activities: https://www.mynsu.co.uk/

What is the student nightlife like in Newcastle?

Nightlife

It's no surprise that Newcastle is consistently ranked as one of the UK's best student cities for nightlife. There is an abundance of bars, clubs and live music venues, and it's no surprise that those who visit are blown away with their experience.

As a student that has just arrived in Newcastle, it can be a difficult choice of where to go first, so we have put together a list of our favourites:

Luther's Bar

Luther's is your official Students' Union bar located around the back of the building. You can enjoy drinks, and weekly buskers sessions, quizzes, and themed nights.

Bijoux

A popular choice as seen by the cast of Geordie Shore; Bijoux is one of busiest bar in Newcastle.

There are events on every night of the week – and it's open til' late. Although it may seem like a prestigious bar at first glance, you can grab a bargain thanks to offers such as three treble vodka & mixers for a mere £5.95 (Sunday – Thursday).

Digital

The club is one of the largest in Newcastle and welcomes huge DJ's at the weekend, whilst catering to the student population through the week.

As the longest running Monday club night in the city, Digital Monday's allow you to start the week with a bang! There are four rooms of music across various genres, but make sure you get there before 23:30 or you will probably be refused entry.

All bars and clubs are within a short distance of our student accommodation in Newcastle.

Where are the best places to shop in Newcastle?

Shopping

Newcastle is excellent for students that love to shop – you'll find everything from high street names, through to an abundance of vintage boutiques.

The city is home to two of the UK's largest shopping centres; intu Metrocentre and intu Eldon Square – both are home to popular high-street brands such as River Island, Adidas, Hollister, Primark and many more.

City Centre

Similarly, in the city centre, there is the iconic intu Eldon Square shopping centre where you will find an abundance of high-street names, such as River Island, Adidas, and Primark.

If you are willing to venture out of the city-centre, the intu MetroCentre is one of the largest shopping and leisure centres in Europe, with over 330 stores to choose from – you can be sure you'll be spoilt for choice.

Markets

For those who prefer visiting the markets than shopping with large retailers, Grainger Market is an excellent choice. You will find everything from locally sourced produce, through to electronics and clothing stalls. If you're looking for something a little different, there is an Arts and Crafts market every Sunday in Jesmond, or you could visit Quayside Market for unique products created by the locals.

What are the best places to eat in Newcastle?

Best places to eat

Newcastle is crowded with restaurant, cafes and gastro pubs, giving you an abundance of options if you choose to study at one of Newcastle's universities.

For example, here are some of our student's favourites:

Slice (187 Grainger Street, Newcastle upon Tyne, NE1 5QW)

The Italian restaurant serves up authentic Italian meals at excellent prices. As you can probably gather from the name, they're well-known for providing Newcastle's students with large slices of pizza – with prices starting at just £1.70!

However, it's a great place to stop if you want something cheap, filling and tasty.

Eat4Less (Northumberland street, NE1 7 Newcastle upon Tyne)

Offering arguably the best meal deal in Newcastle, Eat4Less provides students across the city with a baguette, bag of crisps and a drink for £2!

All of the food provided at the eatery are freshly made, and there's a massive choice! You can choose from 15 fillings in a jacket potato, or over 25 if you choose to have a panini.

The Ship Inn (Stepney Bank, Newcastle upon Tyne, NE1 2PW)

The Ship Inn was Newcastle's first vegan bistro pub, and with a growing population of vegan students in Newcastle, it's a great option for a tasty meal in one of the city's oldest areas.

Even if you're not a vegan, we would strongly recommend visiting during your time in Newcastle, with an excellent choice of main courses and desserts.

The Bridge Tavern (7 Akenside Hill, Newcastle upon Tyne NE1 3UF)

You'll find The Bridge Tavern tucked away under the Tyne Bridge. It boasts a large menu from locally-sourced goods. Secondly, it has it's own micro-brewery too for those who want a drink with their meal after a long day studying.

Complimenting the main menu, there's also an array of snacks available. If you happen to visit on a Sunday, you can grab yourself their famous roast dinner, which is a favourite with the locals!

What are the job opportunities for students in Newcastle?

Living in student accommodation in Newcastle- Job Opportunities

With Newcastle being a popular choice for students to study, there is a great variety of part time jobs for students that can fit around your studies, especially due to the large shopping areas, providing jobs within the retail sector.

For example,

Intu Shopping centres post available jobs on their website, just select intu Metrocentre or intu Eldon Square and available jobs will show.

What else is there to do around your student accommodation in Newcastle?

Living in student accommodation in Newcastle

Living in student accommodation in Newcastle? We have the perfect ideas to entertain you.

If you're looking for an adventurous day out why not try Go Ape? As a result, enjoy up to three hours of being high up in the trees, taking on zipwires, Tarzan swings, rope ladders and a variety of obstacles and crossings.

On the other hand, for football Lovers why not visit Newcastle Football Club and watch a few matches or even take a roof top tour and take in Newcastle's cityscape.

Seven Bridges

Newcastle is famous for its seven Bridges; Gateshead Millennium Bridge, Tyne Bridge, Swing Bridge, High Level Bridge, Queen Elizabeth II Metro Bridge, King Edward VII Bridge and Redheugh Bridge. So, you can go and visit each one of them and capture the perfect photo!

The Angel of the North is known across the UK and is a contemporary sculpture which has become a symbol and landmark of Newcastle.

Interestingly, Newcastle boasts the creation of Lucozade and the founding of Greggs the bakery.