Haunted Accommodation
Marketing Team - October 25, 2021
The Haunted Student Accommodation
Watch out Halloween is around the corner; you don't want it to creep up and scare you. So, we've put together a list of recipes and things to do. So, you can enjoy a thrilling Halloween with plenty of tricks and mainly TREATS.
Recipes
You might be too old to go trick or treating, so why not skip the long walk and just make the treats? We recommend taking a look at BBC Good Food, they have scarily good inspiration.
These are some of our favourites from BBC Good Food. This will get your Halloween off to a spooky start.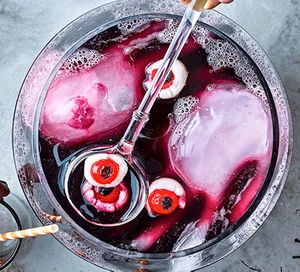 Night Outs
Fancy Dress night outs. Yes, you heard me correctly, many night clubs will hold a fancy-dress event. Become your favourite Halloween character and get into the spirit of things. Search on Facebook, Twickets and Skiddle for events near you this Halloween, so you don't miss out.
Fancy Dress Ideas
Are you struggling to decide what fancy dress is the scariest? Or which fake blood will last the longest? Or maybe you don't know where to start with best practise to be a ghost. We recommend find your local fancy dress shop and support the local economy after a tough year. Luvyababes is a common fancy dress shop in most cities across the UK, they have a great selection of everything you need. Check out their website before you head to the store.
Film Night
Not going out? We've got a list of films that will make you hide behind your sofa. From classic jump scare films to the ones that leave you with a long chill afterwards.
If clowns are your thing, then you won't go far wrong with the iconic Pennywise giggle. When all he wants to do is play a game, how could you refuse? One of our top recommendations and should be a staple of your scary film night in.
A Netflix's original that will certainly get you with a few jump scares, and leave you running up your stairs when the lights go out. An easy background watch that is a certain crowd pleaser, it has everything you in need in a late-night popcorn flick.
Unusual, interesting and will make you watch your back. This horror film is a modern classic. It'll certainly give you the creeps when you're with a lot of people, a new twist. A typical a horror film will scare you to never be alone, this flips that idea on its head.
Just off to visit your grandparents, what could possibly go wrong? Yes, you guessed it, quite literally everything. It'll be one of your most terrifying visits to your grandparents and make you think twice before going to get treats. This film rates highly on IMDB and rotten tomatoes, get it on and don't think twice. Well maybe because you won't forget it.
A remote house? Nothing scary about that is there. However, a knock, knock comes, and you are beginning to think just why you would ever want to be in a house in the middle of nowhere. As this couple spends some quality time away with each other, this trip certainly changed their lives for ever.
We hope this spooky addition to our blogs has got you in the mood to be scared.